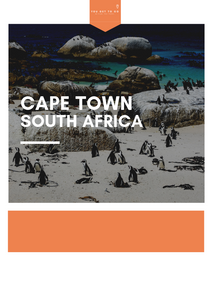 The Cape Town City Guide
Regular price $0.00 $19.99 Sale
The Cape Town Guide & Itinerary is a day-by-day guide of accommodations and activities. Packed with tips and advice, this is a 4-day guide including:
Neighborhoods to Know
Getting Around
Budget
Recommended Accommodations

Suggested Activities & Excursions

Sample Itinerary

Dining Recommendations

Nightlife Suggestions
Cape Town is often paired with Johannesburg on a single trip.
You will receive a link to download your itinerary.